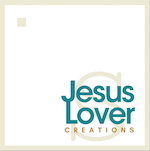 Jesus Lover
Creations

Store

Jesus Lover Creations, is a platform for Jesus loving artist to make products that inspire you to love Jesus.
An overflow!
These products are simply an overflow of our passion for Jesus. We love Jesus and we are proud to show it of!
Stir your faith!
Graphics are powerful prophetic declarations that inspire faith!
"Then the LORD answered me and said,
"Record the vision
And inscribe it on tablets,
That the one who reads it may run."" Hab 2:2
A revival journey!
We are created to create, inspired to inspire and revived to revive! Become part of a journey of loving Jesus!
What our 
customers

say

It's a pleasure having you on this journey!
This t-shirt is innovative, intricate and thought provoking! It's made of great quality and fits well. ..I'm literally wearing my prayers. This Listening heart t-shirt encapsulates my desire for Jesus, authentically and aesthetically! Thank you Jesus Lover Creations, my favourite t-shirt!
Francesco